Kairou Watoshimi Profile Page
User Status
| | |
| --- | --- |
| | 14066 |
| | ONLINE |
| | 8 years ago |
| | Now |
| | 53 minutes ago |
| | 25 |
| | - |
| | - |
| | - |
| | Kairou Watoshimi |
Main
[Insert Something Here]
[Banners] Drawble / Drabble Night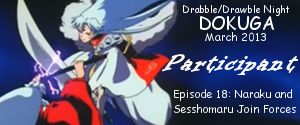 Forum
Forum Statistics
Forum Ranking
Pup

Total Posts
109
Karma
10
Fanfiction
Kairou Watoshimi has 2 stories
A collection of drabbles about Sesshomaru and Higurashi Kagome told in one hundred words. No more, no less. Latest drabble: Liar - He lied to her.
Rating: MA  -  Universe: Canon  -  Status: Incomplete  -  Category: Oneshot Collections  -  Created: 09 Mar 2013  -  Updated: 09 Mar 2013
Genre: Action, Angst, Dark, Drama, Erotica, Friendship, Humor, Kink, Romance, Tragedy, Vignette  -  Chapters: 1  -  Reviews: 2  -  Words: 122  -  Reads: 576
[Harry Potter Crossover]They had always thought that Voldemort was their biggest problem but when a new species of monsters, known as demons arrive, Harry and his friends realize that Voldemort may be the least of their worries.
Rating: MA  -  Universe: Crossover  -  Status: Incomplete  -  Category: Chapter Stories  -  Created: 21 May 2013  -  Updated: 21 May 2013
Genre: Action, Drama, Friendship, Romance  -  Chapters: 1  -  Reviews: 2  -  Words: 2,213  -  Reads: 583
Favorite Fanart